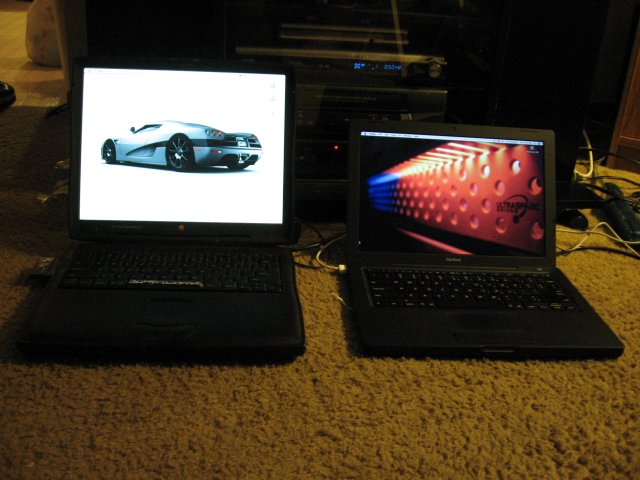 Manufacturer: Apple Computer
Model: Black MacBook
CPU: Intel Core2 Duo, 2.0GHz
RAM: 1GB, PC2-5300, 667MHz, Dual Channel
HDD: 120GB SATA
I know, I know. Anything but retro. I have to show it off, though. You see, this is the first NEW computer I've personally owned since buying my NEC Versa 550D back in 1995. I usually buy used computers or accept free, used, unwanted components from people who are upgrading.
Anyhow, here it sits next to its 8-year-old brother, the G3 PowerBook.
I've had this MacBook for a week now, and I must say that I'm thoroughly impressed. Apple still "has it" for sure. This machine has an excellent fit and finish. It's relatively light weight, pretty thin, but doesn't feel cheap or chinsey at all.
I still plan on using the G3 PowerBook on occation. There's a lot of things it's still useful for, including WarDriving (the MacBook doesn't have a PCMCIA slot for my 200mW card). I'll try to keep the non-retro posts to a minimum, but I had to show it off.