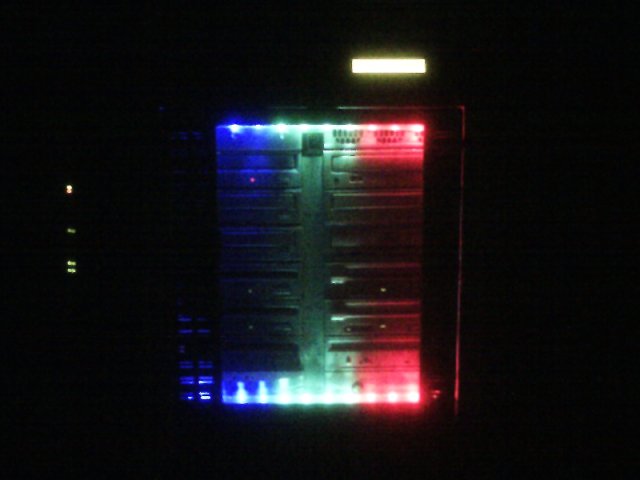 Manufacturer: Axis Communications
Model: StorPoint CD-E100
CPU: ETRAX4, 20MHz
RAM: 2MB Flash
HDD: None built-in
Release Date: Late 1999
Shown inside a Procom CD server tower at night, illuminated with multi-color LED bars.
The Axis StorPoint CD-E100 is actually an embedded server in a case the size of your average CD/DVD drive. It's built to be installed inside a case along with other CD-ROM drives, and the embedded OS shares all the attached drives over the network, via FTP, NFS, Novell Netware, Windows Network Neighborhood (Samba), AppleTalk, and HTTP. On the back of the case is a typical 4-pin Molex power plug (same thing you see on internal CD-ROM drives), two 50-pin SCSI ports, and a 10/100 Ethernet port. You can attach up to 7 devices to each SCSI port, for a powerful combination of up to 14 devices.
The procom CD tower I am using can hold up to 16 drives - 8 slots side-by-side, so I have 14 drives (3 DVD, 1 HDD, 2 CD-RW and 8 CD-ROM) within, using one of the remaining two bays to hold the CD-E100 itself. On the last remaining bay, I mounted the control switches for the LED bars. A locking metal door with a dark-tinted plexiglass window adorns the front of the CD tower.
The CD-E100 allows you to attach CD-ROM, DVD-ROM, CD-R, CD-RW or Hard Drives.
Hard drives are used only for storing images (or caches) of inserted discs. You can insert a CD or DVD, copy the image of the media to the hard drive, and remove the disc, but the files will still be available on the network. I have a 73GB hard drive installed on one of the SCSI ports.
CD-R and CD-RW drives show up as "writable" storage. Using the administrative web interface, you can UDF-Format blank media, then upload files to the CD. This effectively turns the drive into a network-attached cd burner.
Discs inserted into ROM drives simply show up as individual file shares on the network. The web interface allows you to specify what network sharing protocols are enabled, and allows you to lock, password protect, and change the share name of each individual disc or cached image.
I burned my entire MP3 collection onto DVD-ROMs and mirrored them to the internal hard drive and shared to all the computers in my home via NFS and network neighborhood. I also regularly drag files to the CD-RW drive, then back the image of the CD-RW up to the hard drive and use the web interface to erase the CD-RW media once I'm done uploading. Sadly, this is the only way to get files directly from your computer to the CD-E100's attached hard drive. There is no way to simply upload files to the free space.